Porous Asphalt

Porous Asphalt - Better Water Quality
(Used with the Permission of the Asphalt Pavement Alliance, Lexington, KY)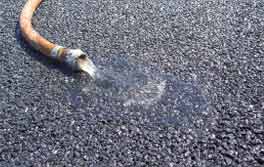 Porous asphalt...
Conserves water

Allows for better use of land

Reduces runoff

Promotes infiltration

Cleans stormwater

Replenishes aquifers

Protects streams

In the natural environment, rainfall sinks into soil, filters through it, and eventually finds its way to streams, ponds, lakes, and underground aquifers. The built environment, by way of contrast, seals the surface. Rainwater and snowmelt become runoff which may contribute to flooding. Contaminants are washed from surfaces directly into waterways without undergoing the filtration that nature intended.1 For these reasons, managing stormwater is a significant issue in land use planning and development. Stormwater management tools can serve to mitigate the impact of the built environment on natural hydrology. Unfortunately, however, they also can lead to unsound solutions such as cutting down stands of trees in order to build detention ponds. Porous asphalt pavements allow for land development plans that are more thoughtful, harmonious with natural processes, and sustainable. They conserve water, reduce runoff, promote infiltration which cleanses stormwater, replenish aquifers, and protect streams. Read More
NAPA Article on Porous Pavements "When it pours, it's porous"